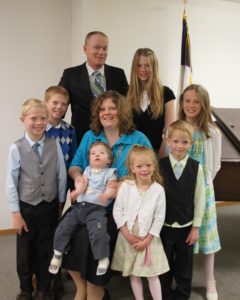 Pastor Jonathan Robertson began serving at Faith Baptist Church in May of 2005. He received undergraduate and graduate degrees from Maranatha Baptist Bible College in Watertown, WI. He also earned a M.Div. and Th.M. from Detroit Baptist Theological Seminary. Before coming to Faith, he served for six years as an assistant pastor at First Baptist Church in Hazel Park, Michigan.
Although born in Tennessee, he has lived in the West and Upper Midwest most of his life. Most of the growing up years were in the Rocky Mountain states. When the Lord directed him to a church in Wisconsin, he adapted his passion for the outdoors and hunting to pursue the illusive whitetail.
In 2008, Pastor Robertson's ministry expanded when he joined the Wisconsin National Guard to serve as a chaplain. In 2009, he was assigned to the 2-127TH Infantry Battalion  and deployed with the 32ND Infantry Brigade in 2009-10. Upon returning, he became the chaplain for the 132ND Brigade Support Battalion for four years and recently joined the 641ST Troop Command. He continues to serve the normal requirements of a Guardsman which included a weekend a month and Annual Training in the summers. This allows him to minister to Soldiers and families that are enduring the challenges facing our citizen-Soldiers.
This slideshow requires JavaScript.